Missing all that space you had in your large home now that you are living in an apartment? Just because you have moved into a smaller home does not mean you cannot create a beautiful spacious area in your new apartment.
5 DECORATING IDEAS TO MAXIMISE SPACE IN YOUR APARTMENT
The one mistake apartment owners make is thinking about functionality over aesthetics. The idea is not to give up on creating a personal space which is beautiful and cosy and reflects your personality. Instead, it's about finding a balance between aesthetics and functionality in creating comfortable, beautiful spaces which maximise space.
Try these five ideas to decorate small spaces:
LIGHT COLOUR PALETTE
Light coloured walls and floors will make your home look bigger. Darker shades will have the opposite effect. Use softer tones to open up your space. If your apartment comes with a stained or dark wall-to-wall carpet, then use a rug in a lighter shade on top to lighten up the area.
But using white and light shades does not mean it has to boring!
If you like vibrant colours, then reserve them for accent pieces such as pillows, artwork or furniture. However, try to use that "pop" of colour in one area of the room. Too many colourful accent pieces spread around the room can make everything look very overwhelming and cluttered.
SCALE DOWN FURNITURE
In a smaller space, large bulky furniture takes up space and makes the rooms look overcrowded. Choose finer tables, moderately sized couches and furniture that serves dual purposes – such as beds that have internal storage, a hollow ottoman which can be used for storing magazines and books, or can double up as a place to put your TV remote control. Coffee tables with drawers and shelves are perfect for extra places to keep the daily clutter.
Consider using floating shelves and desks instead of heavy bookcases or a bulky kitchen sideboard. Use airy pieces of furniture such as glass-topped tables.
Since most apartments are box-shaped, use curved shapes in furniture to compliment straight walls, such as a round dining table.
Multi-purpose furniture works best in small spaces, but be sure to select pieces that are of appropriate size for your apartment.
These days there is plenty of choice with furniture manufacturers specialising in small-scale furniture which will fit perfectly into your apartment.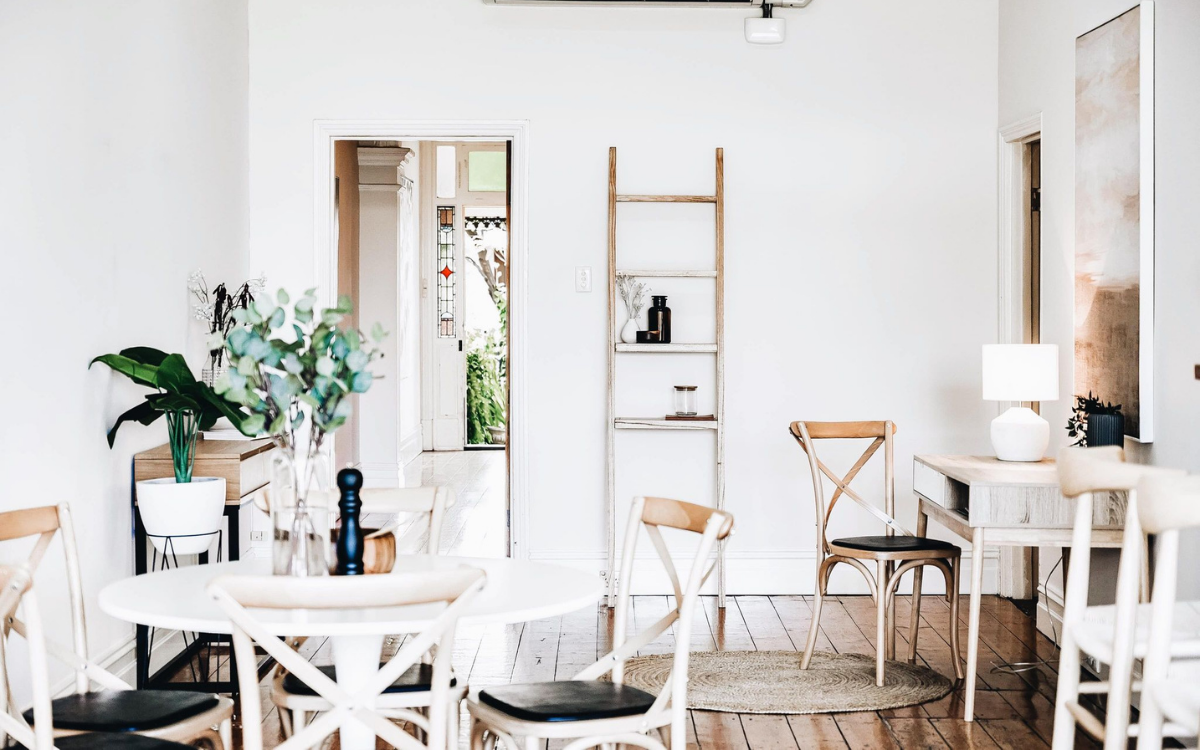 GO VERTICAL
When you have a small area to work with, you need to think vertically as well as horizontally. Make use of walls to create storage areas such as floor-to-ceiling shelves, which can be used for storing or for display. You can use the space over a doorway for shelving – this adds expanse to the room and can make it look bigger.
Use cubed shelving or a floor-to-ceiling entertainment centre to divide certain areas – such as the entryway from the sitting area, or the entertainment area from the dining area.
If you have a little nook in your apartment and don't what to do with it, use it to create an area like a home office – think floor to ceiling bookshelves on either side of a slim desk. Make it stylish by adding photo frames in various sizes, a plant or two, and other personal touches.
Use the vertical space to add pieces of décor such as pictures and art, although a large piece of art in a room will help anchor together all the pieces in the room.
Consider using strategically placed mirrors, preferably in a large size to expand space. Metallic décor also has the same effect as mirrors, as light reflects off the surface to give you a feeling of space.
Use long curtains to create that sense of height with curtain rods close to the ceiling. Try and keep the colour of the curtains the same as the walls to make the room look larger. Add vertical stripes to drapes in another section of the house in coordinating colours, but still maintaining the tone of the walls – giving that area a different look and adding another area in your home.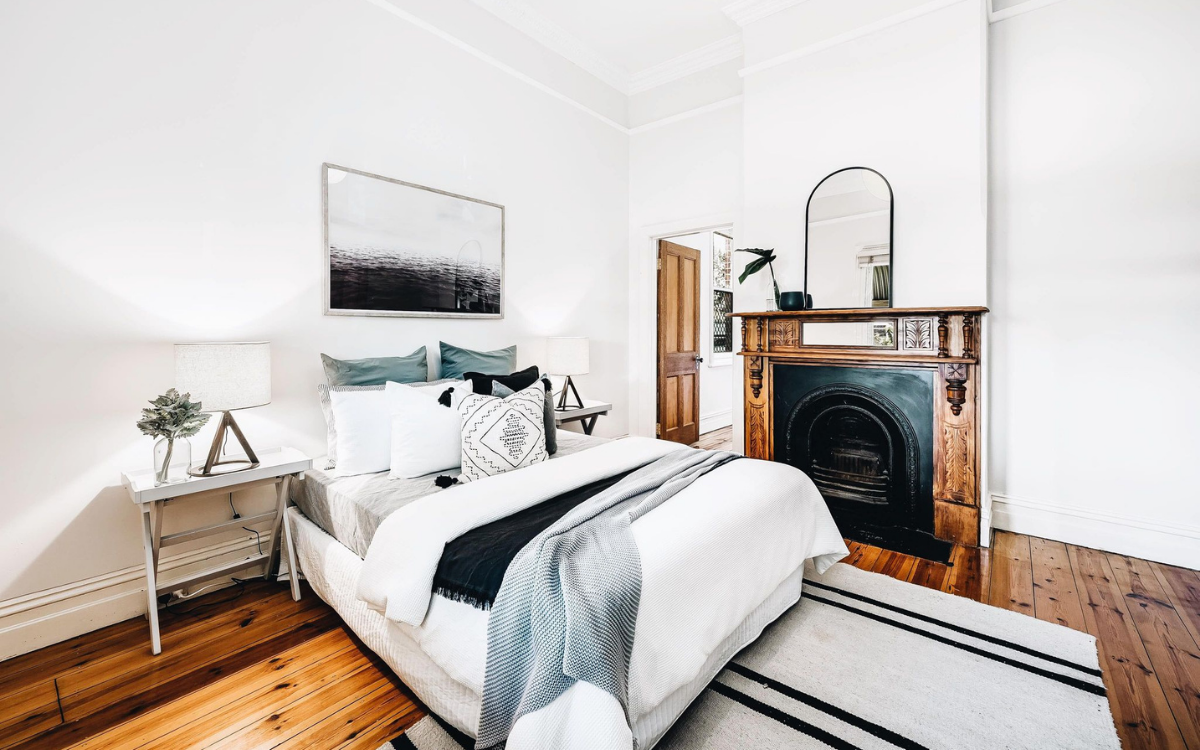 CLEVER LAYOUT
You may be tempted to push all the furniture against a wall to create space, but this makes your room look dull, messy and small. Float your furniture away from the wall and creating an interesting seating area for easy conversations. Add a coloured rug to separate that area from the rest of the room.
Demarcation gives each area a specific purpose, while visually moving you from one zone to another. This way the furniture does not look cluttered and you have created defined spaces which go a long way in making your apartment look spacious.
Make use of unused spaces such as corners for a corner bookshelf or tuck in a cosy armchair to create another interesting space.
Look for other dead spaces which you can use for storage, like the back of a door, or make smart use of a windowsill for a little herb garden and other knick-knacks.
USE LIGHTS, LAYERS AND TEXTURES
Add different types of lighting in varying heights in several areas of the room to draw attention and create interest. This makes the room look larger and also makes your home feel warm and welcoming.
Add depth to your apartment with layers such as rugs, throw pillows, cushions, multiple blankets for your bed and other decorative elements. It's about being multidimensional which keeps your apartment from looking staid and boring. Use an eclectic mix of varying colours, patterns and textures to spark interest, add zest and make your apartment home unique, comfortable and stylish.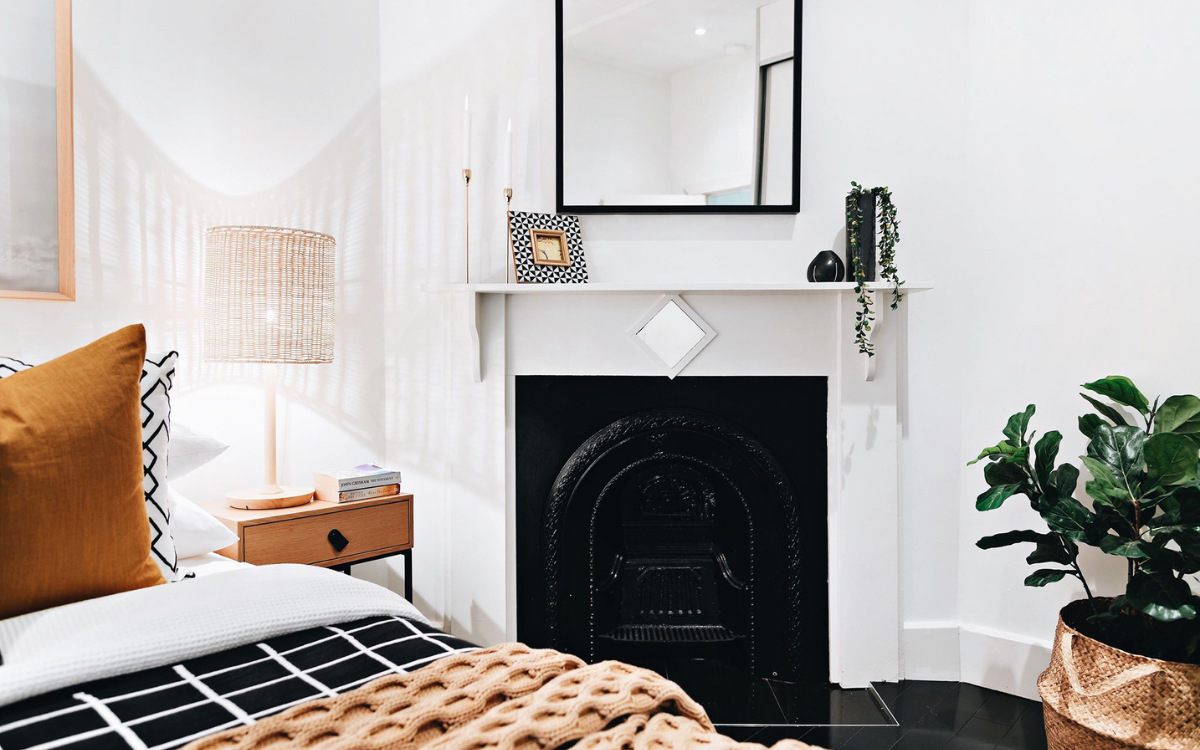 Want to read more about transitioning to a smaller living space? Read our blog on balcony gardening.